NATURE FAIR ESTRECHO – HUERTAGRANDE FESTIVAL
27 March, 2015 @ 6:00 pm

-

29 March, 2015 @ 9:00 pm

Call at accommodation
The Huertagrande Migrations Festival will take place over the weekend between 27 and 29 March. A year more, it will be hosted by the rural housing Huerta Grande, Algeciras.
Ten experts: Alejandro Onrubia, Clive Finlayson, Amy King, Simon Tonkin, Rocio Espada, Carlos Torralvo, Maite Ikarán, Philippe Verborgh, Yeray Seminary and Pablo Ortegano speak about birds, cetaceans and migration in the Strait of Gibraltrar.
We have also prepared activities during the mornings of Saturday and Sunday in which participants who sign up can enjoy guided tours to spot whales and seabirds visits (Saturday at 10.00 h.) Or visit different observatories (Sunday at 10.00 h.) at a price every activity of € 5 per person.
A pack that offers accommodation called "Fair Strait Nature Package" which includes half board accommodation, registration, outings, workshops and talks for 50 euros per person per day. If you want more information please consult the rural housing.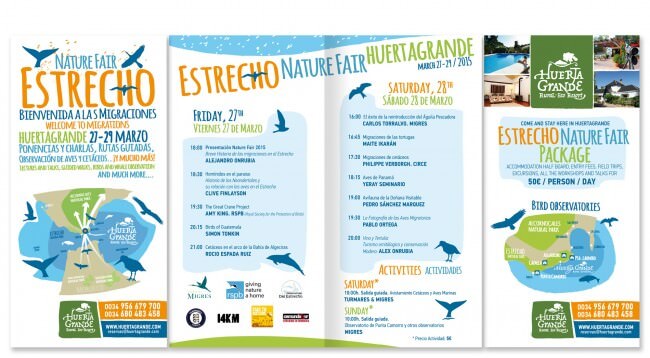 Friday, March 27th 2015
Conferences
18,00 h.
Nature Fair 2015 Presentation (in Spanish)
Brief History of migration in the Strait
Alejandro Onrubia
18,30 h.
Hominids in paradise (in Spanish)
History of Neanderthals and their relationship with the birds in the Strait
Clive Finlayson
19,30 h.
The Great Crane Projet
Amy King
Royal Society for the Protection of Birds – RSPB
20,15 h.
Birds in Guatemala
Simon Tonkin
21,00 h.
Cetaceans in the arch of the Bay of Algeciras (in Spanish)
Rocío Espada Ruiz
Saturday, March 28th 2015
Conferences
16,00 h.
The success of the reintroduction of Osprey (in Spanish)
Alejandro Onrubia
16,45 h.
Migration of turtles (in Spanish)
Maite Ikarán
17,30 h.
Migration of cetaceans (in Spanish)
Philippe Verborgh
18,15 h.
Birds of Panama (in Spanish)
Yeray Seminario
19,00 h.
Visitable Doñana Birdlife (in Spanish)
Pedro Sánchez Márquez
19,30 h.
The Migratory Bird Photography (in Spanish)
Pablo Ortega
20,00 h.
Wine & Tertulia
Ornithological tourism and conservation
Moderate: Alejandro Onrubia
If you want to add an event to our calendar please fill in the form at the following link
Copyright of all trademarks, trade names, logos and images belong to their respective owners.